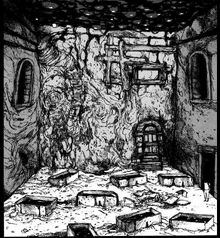 A metaphorical and subsequently physical place where the resurrection of Ai, Aikawa, Kai and Kaiman takes place. Originally located inside the mind of these characters, ending as a real room inside the Central Department Store.
Appearance
Edit
With an estimate height of three floors, with a mixed design between adobe-looking walls with flesh, drain tubes and refuse water in the roof. Nine coffins representing the amount of times the aforementioned characters can come back to life are scattered across the room, one of them destroyed at the moment it was first seen.
Ad blocker interference detected!
Wikia is a free-to-use site that makes money from advertising. We have a modified experience for viewers using ad blockers

Wikia is not accessible if you've made further modifications. Remove the custom ad blocker rule(s) and the page will load as expected.