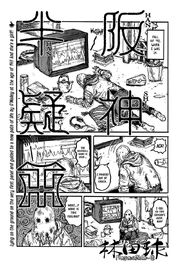 Its a pseudo autobiographical manga one shot write and illustrated by Q Hayashida as a part of an anthology for the magazine Hanshin Tigers Sousetsu 80 Shuunen Kinen Zoukan, created for the Hanshin Tiger's 80th Anniversary. Following the author herself in the baseball fanatic part of her youth and her quite weird quest to see her hero, the regular third base of the team Tom O'Malley.
Q Hayashidas's manga avatar is used as a representation of herself in the one shot, giving her the look of a dirty neet person with a ragged looking bag on her face.
This show one of the author's biggest hobbies, giving a reason about the interest of various characters in baseball, like Dr. Vaux.
Its explain that Jonson's famous catchphrase (and only word) "Shocking!" comes from Q Hayashida's screams when an opposing team scored against the Hashin Tigers.
Ad blocker interference detected!
Wikia is a free-to-use site that makes money from advertising. We have a modified experience for viewers using ad blockers

Wikia is not accessible if you've made further modifications. Remove the custom ad blocker rule(s) and the page will load as expected.